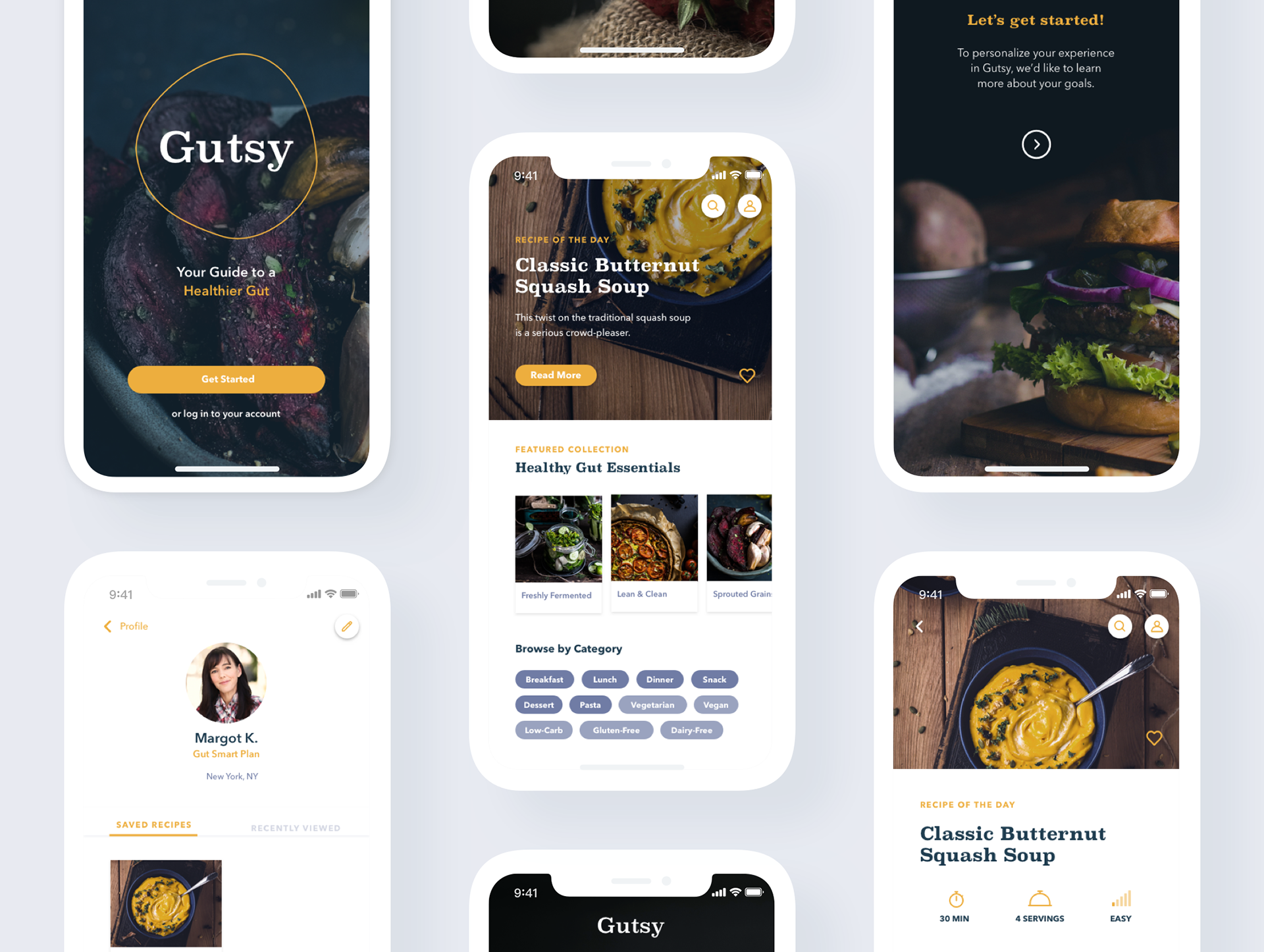 Background
Hemsley + Hemsley (H+H) is a bespoke service and lifestyle site dedicated to coaching individuals on how to help improve their nutrition, digestive health, and relationship with food. Their simple, honest approach to healthy cooking has amassed a strong following for new and experienced cooks alike who are interested in learning how food affects the body. Their meals are sourced from natural ingredients and emphasize the importance of good digestion over 'quick-fix' diets for a sustainable lifestyle change.
Challenge
To extend their reach, H+H wanted to develop a mobile app that acted as an extension of their brand to increase loyalty and readership. The H+H site housed a robust collection of recipes sorted by meal type and seasonality, but was not easy to filter and sort for food preferences and restrictions. H+H believes passionately in nourishing people to feel their best, and that required being able to personalize content based on user goals and preferences.

Primary Tasks
Users are able to access and discover recipes that match their unique health goals and preferences. Recipes and content should feel custom to each individual user and easy to filter by relevance. The recipe page must be easy to follow and have clear indications of effort, time required, and serving sizes before beginning.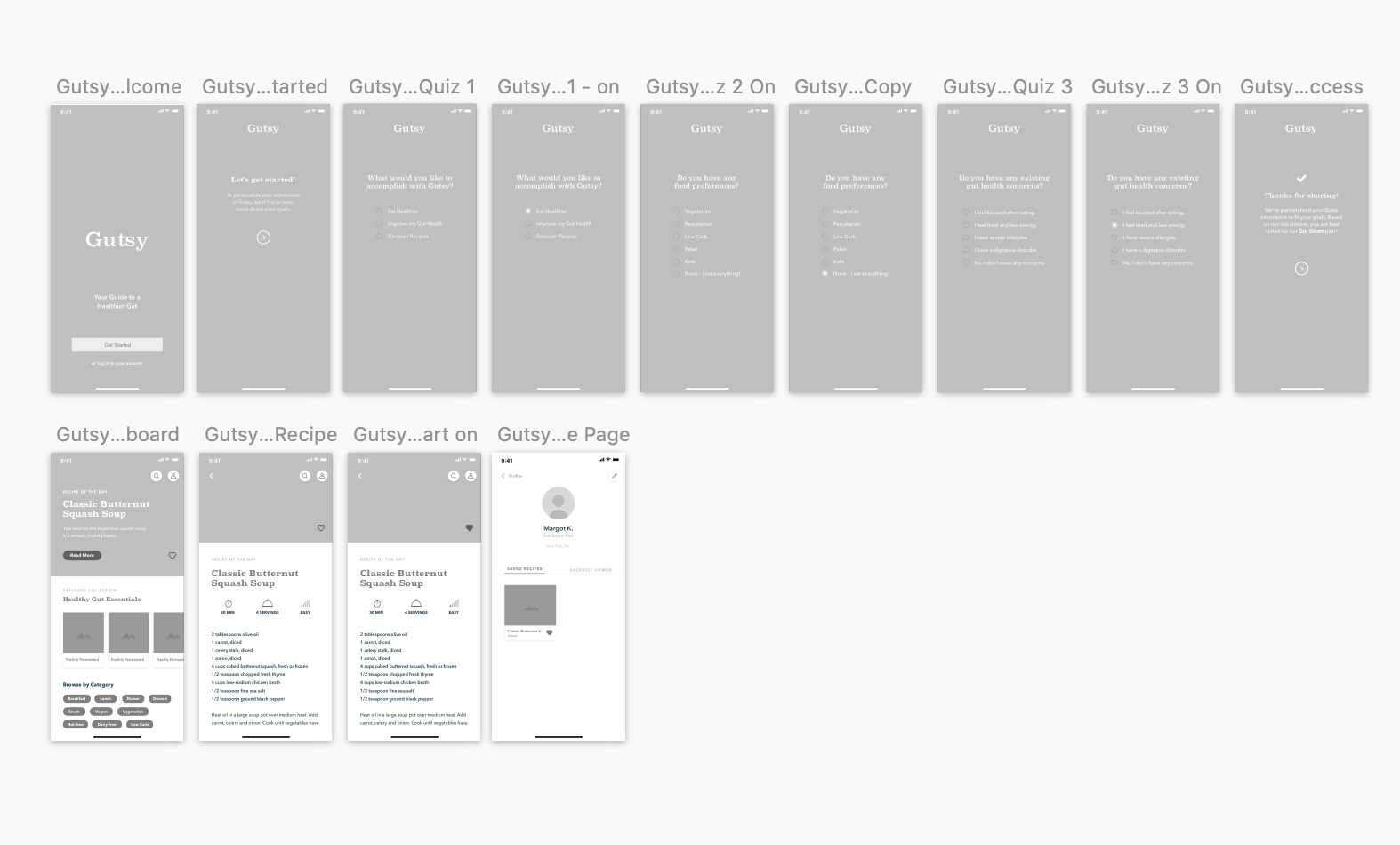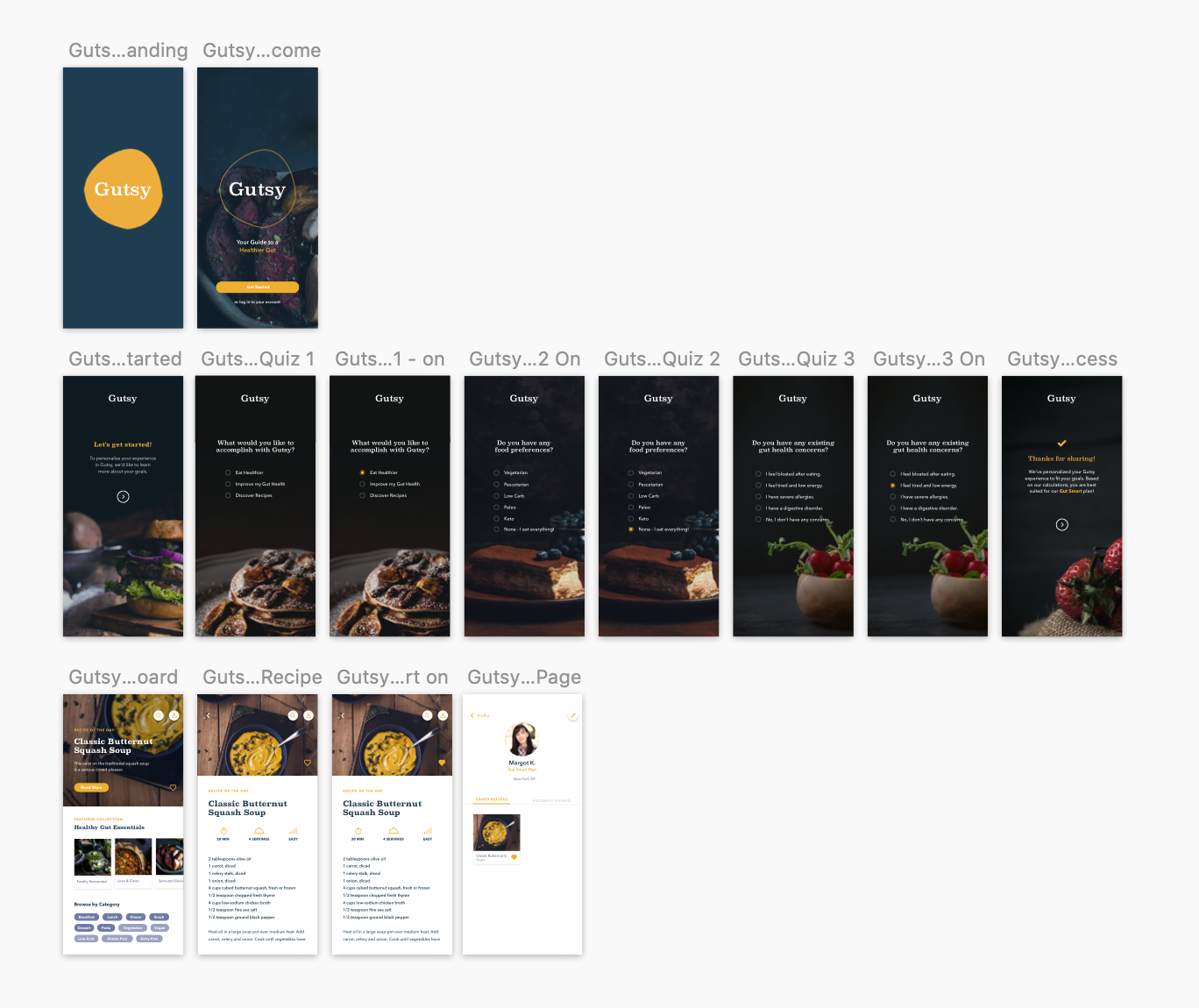 App Features
The Gutsy app's differentiator is its personalized user experience. Users take a quiz upon sign up to customize Gutsy's collection of recipes based on their preferences and goals. The quiz takes into account food preferences, dietary restrictions, and existing digestive health concerns. By answering these questions, the app is able to customize the recipes that appear by removing troublesome ingredients and championing recipes with probiotics and higher nutritional value. A plan is assigned to each user to help them reach their health and wellness goal. Users are able to switch plans if their priorities change on their profile page.
Below is the user journey of navigating through the Gutsy quiz.
Step-by-Step Instructions
Gutsy features easy-to-follow directions and advanced search filters to find that perfect recipe. Users can browse by category to cook by meal type and diet preference. Recipe pages are easy to follow and have clear instruction that makes it easy to get cooking. Custom icons give an accurate reading of how much time and effort the meal requires to cook and how many servings it will yield.

Curated Collections
Users can discover new recipes through expertly curated collections on their personalized dashboard to improve their digestive health. Examples of featured collections include "Freshly Fermented," "Lean & Clean," and "Sprouted Grains." The dashboard features one recipe of the day to promote trending content and popular seasonal ingredients.

Visual Design
The Gutsy app uses a combination of a serif and sans serif typeface for elegance and easy legibility. Using a rich but muted color palette, the app appears sophisticated and sleek and allows the style of photography to shine.